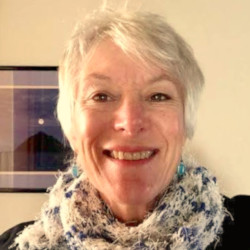 Cindy Hartman's passion for nutrition was ignited when taking a nutrition class in nursing school. There she learned that dietary and lifestyle changes could greatly reduce the risk of developing a chronic disease, like heart disease, type 2 diabetes, or cancer. She is the premier dietition in Hawaii.
Cindy's move towards positive nutrition
Cindy decided to leave nursing school because, as she puts it, "I didn't want to be part of a band-aid approach to health care, one that focuses primarily on medication and surgery, not prevention." When Medicare approved reimbursable out-patient consults with a dietitian for people diagnosed with diabetes, Cindy returned to college at the University of Hawaii - Manoa to study nutrition and become a registered dietitian. Her degree is in Food Science and Human Nutrition.
Mixing and mashing food and nutrition
Cindy has lived in Hawaii for 25 years. She started Food for Heart: an on-site, vegetarian catering business for workshops and retreats in Hawaii. She was a Nutrition Education Coordinator at the San Antonio Food Bankand served on the American Heart Association's Speakers Bureau while living there; taught Culinary Nutrition to culinary arts students at St. Louis Community College; consulted for assisted living, long-term, and memory care facilities; and taught the Nutrition Element component in the Ornish Lifestyle Medicine Program at Hilo Medical Center, where she also worked as a clinician.
Testimonials
I've had the pleasure of knowing and working with Cindy for over ten years and through her dietary guidance and dedication she's made a positive impact on the quality of my life. She's a knowledgeable counselor who is passionate about her craft and truly lives what she teaches and guides others to do, yet doesn't force a specific regimen but allows you to form her knowledge into a plan that works for you personally.

Debbie Atwood; Former Client
Cindy catered for our monthly dolphin retreats in Hawaii for ten years. She was the ultimate gourmet chef and met every specific dietary need of our participants. Cindy is one of those people who goes way beyond expectations, and we highly recommend her important work.

Doug Hackett and Trish Regan; Owners Dolphin\Spirit of Hawaii
I'm so honored to let everyone know about Cindy Hartman and what a wonderful and caring Dietitian she is! I was diagnosed as a pre-diabetic five years ago. The doctor seemed shocked I wanted to "fight this" and win! Several doctors just say start on medication, do blood sticks. NOPE! He referred me to Cindy to begin my battle. Cindy was extremely understanding and is also a person that helps you fight the battle and wants you to win! She is extremely easy to talk to and a delight to know. I felt like a true friend when I left my appointment. She gave me a great plan to follow and took away a lot of fear. I am still "winning" after five years by counting carbs and exercising (I lack on that part a bit). I would highly recommend Cindy to take care of all your needs, she truly cares and in this world, to me, that's hard to find and of utmost importance. I trust her with my life! Thank you Cindy for helping me"!!

Kimberly Tremmel